Choosing a web host is typically one of the first decisions you'll make when setting up your website. However, over time you may come to regret your choice of provider. If this happens, you'll be faced with the prospect of migrating your website from one host to another.
Fortunately, this process is easier than it might first appear. You can use a simple plugin such as Duplicator to move your WordPress site to a host that will provide a better, safer home for it – like DreamHost! What's more, this can be done in just a few steps.
In this article, we'll show you how to easily migrate your site to DreamHost in four steps. First, let's discuss why you might want to do so!
Why You Might Want to Migrate Your WordPress Website
When we talk about migrating your website, we mean moving it from one web host to another. Typically, one of the first things you'll do when creating a new site is choose and sign up with a hosting provider. They'll company will normally take care of getting your site online, so people are actually able to visit it.
However, sometimes you'll want to move your site to a different host after it's been up and running for a while. There are a number of reasons you might want to migrate your WordPress site to a different host, including:
Your site has grown over time, and you need more options, functionality, or space to keep up with it.
Your current host doesn't provide the security features or support options you're looking for.
Your site is experiencing poor performance or a lot of downtime.
If you feel it's time for a change, whether due to the above reasons or something else entirely, your first step will be to find a new host that's a better fit. You should look for one providing excellent performance and uptime, plenty of flexibility and 'scalable' options, and top-notch security and support.
Here at DreamHost, we offer hosting plans that meet all of these criteria and more. You can choose from a number of affordable shared hosting packages, or opt for DreamPress – a fully-managed solution. Either way, you'll benefit from great performance, lots of useful, WordPress-specific features, and expert support.
What's more, migrating your site to DreamHost is a simple process. We can handle it for you for a small fee, or you can do it yourself using a dedicated plugin.
Our recommendation: Sign up for DreamPress, the premier WordPress hosting service.
Introducing Duplicator

If you've decided to migrate your WordPress website, you have several options. As we mentioned above, you can often have you new host take care of the process for you. Advanced users may be interested in manual migration options, such as using WP-CLI. However, in many cases, the simplest option is to use a plugin.
Duplicator is one of the best plugins available for migrating your WordPress site. It's a multipurpose tool that enables you to move, migrate, and clone your site — or you can simply copy it in order to create a backup. What's more, Duplicator is flexible, easy to use, and very reliable.
Key Features
Enables you to move or migrate your WordPress site to a new domain or host.
Lets you clone or copy your website to create a backup or staging site.
Provides the option to copy and move only the parts of your site you need.
Pricing
The base Duplicator plugin is free, and it's all you'll need to migrate your site. However, you can also opt for the premium version, which includes extra features such as scheduled backups, cloud storage options, and the ability to easily migrate an entire multisite WordPress network.
How to Migrate Your WordPress Website to DreamHost (In 4 Steps)
Now we've covered the basics, it's time to discuss how to actually perform your site migration. With that in mind, the four steps below will help you move your site from your current hosting provider to another web host.
Step 1: Prepare for the Migration Process
Migrating your site to DreamHost (or any web host) is a fairly simple process. However, there are a few tasks you'll want to take care of before proceeding:
After you have all of the above items in place, you're ready to move on to the next step!
Step 2: Create a Copy of Your Existing Website
Once Duplicator is activated on your site, you'll see a new option named after the plugin on your WordPress dashboard. Click on it, and you'll be taken to a page where you can create a 'package'. This simply means a collection of files that make up a copy of your site.
To get started, click on the Create New button. You'll be prompted to give your package a name – be sure to title it something you can easily identify. Below that are a few advanced options: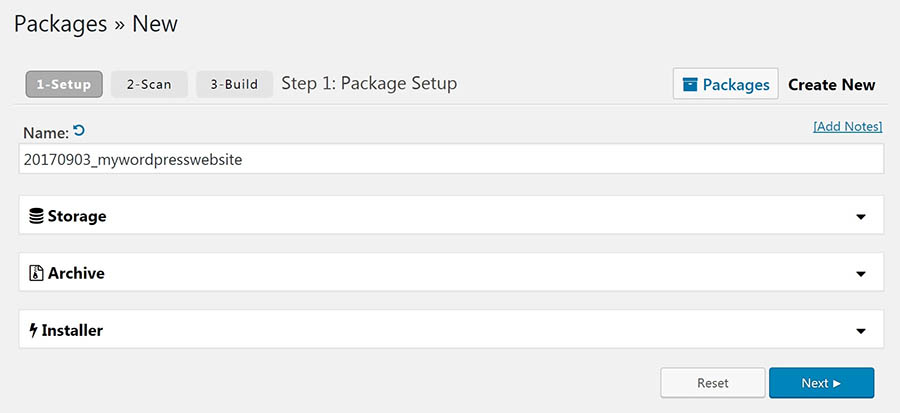 Under Storage, you can choose a location to store your package if you have the premium version of the plugin (otherwise, it will simply be downloaded to your computer). Archive enables you to choose certain files and directories you don't want to include in your package (for example, if you only wanted to back up part of your site). Finally, you can use the Installer section to customize the install process, although if you leave these fields alone they will be automatically filled in by the plugin.
For now, you can safely ignore these advanced options and simply select Next. Wait a few moments while Duplicator scans your site, then presents its results: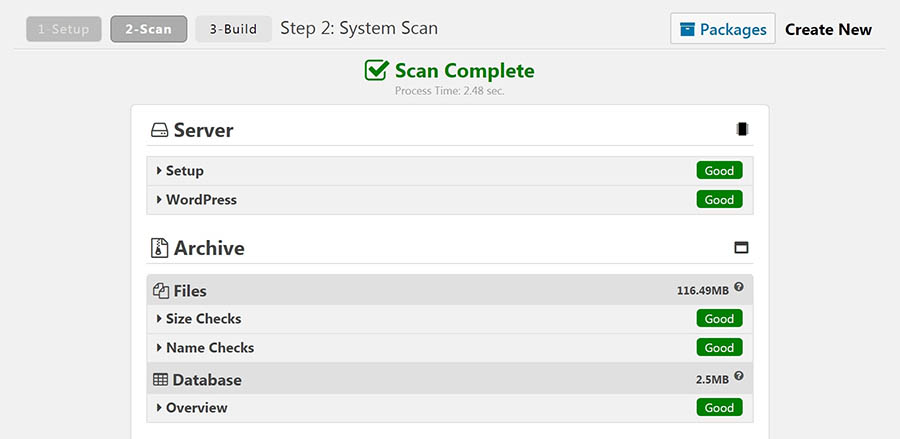 Most (if not all) categories should be listed as Good. However, if any show the Warn status, you can click on the link next to those categories to see some suggestions for how to resolve the problem.
It's important to be aware that seeing one or more Warn statuses does not necessarily mean there's an issue – just the potential for one. You can still attempt to build a package, and chances are it will proceed without any errors. Even so, if you do run into a problem, there are some handy troubleshooting resources available online.
Once you've checked out any problematic results, go ahead and hit the Buildbutton. Again, you'll need to wait while Duplicator creates your package (it shouldn't take long). When it's done, you'll get a success message: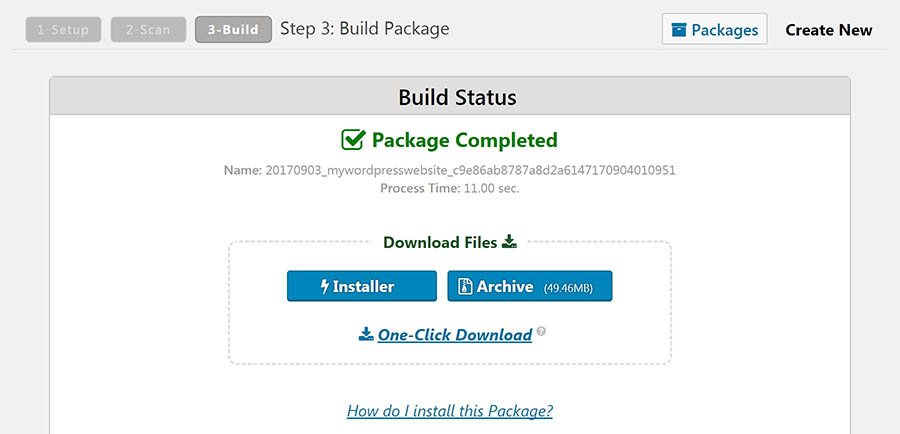 You'll need to click on both the Installer and Archive buttons to download all the files and save them to your computer. Installer will provide you with a standalone PHP file, while Archive is the zipped folder containing your site's information. With that, the first part of the migration process is complete.
Step 3: Download the Duplicator Files to Your New Server
Next up, you'll need to take the files you just downloaded and set them up on DreamHost. This is where your FTP client comes into play. In addition, you'll need the credentials required to access your FTP server, which you can find in your host's control panel.
After logging into your FTP server, locate your website's root folder and open it. Then, simply upload your Installer and Archive files from Duplicator into this folder: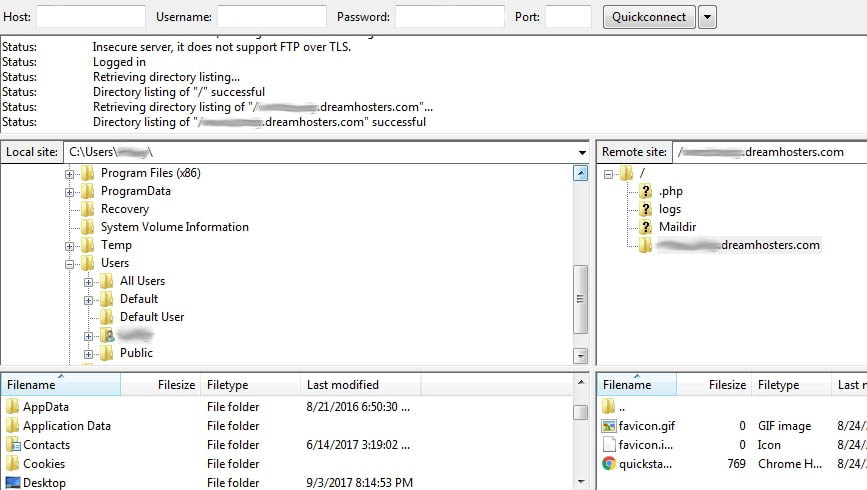 Before you can perform the install itself, you'll need to do one more thing. Visit your DreamHost control panel, and navigate to Goodies > MySQL Databases: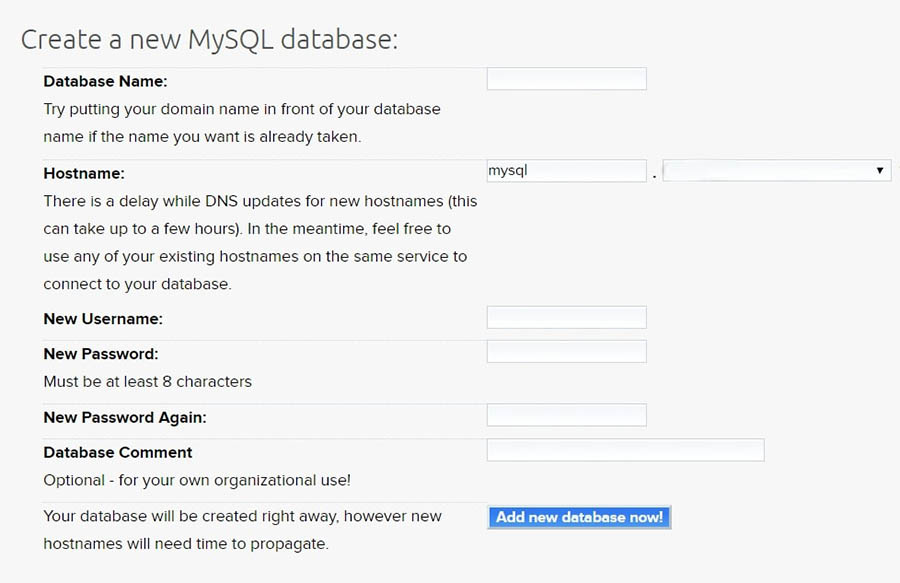 On this page, you can create a new hostname and an empty database, which will be the home for your new site. You'll need to fill out all of the fields on this page, which means picking a name for your database, choosing a username and password, and creating a new hostname. Bear in mind though, the latter may require up to a few hours to take effect.
When your new database is ready, you can move on to the last step.
Step 4: Install Your Migrated Website on DreamHost
Now you have a new home for your site, and you've copied over your duplicated files, it's time to complete the migration process. In your favorite browser, visit the URL for the installer.php file you uploaded via FTP. It will look something like this: example.dreamhosters.com/installer.php (remembering to substitute your own domain name).
A Duplicator installer will appear that looks quite similar to the page you used to download the files to your computer earlier: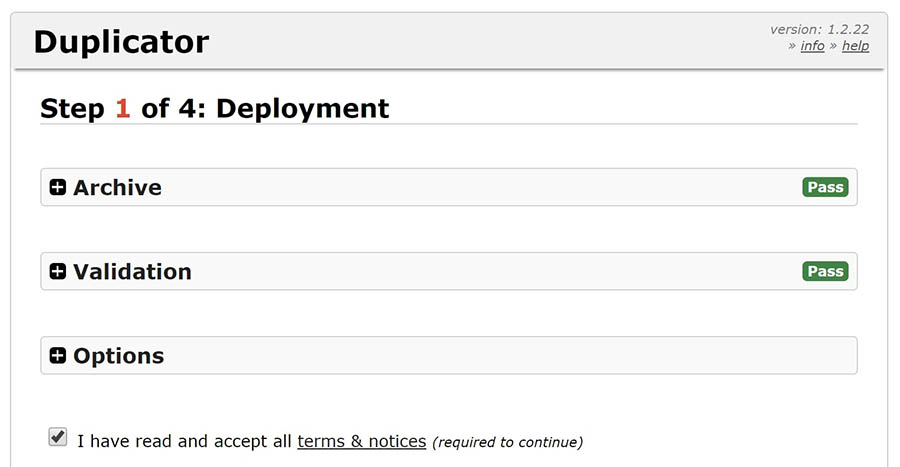 As before, you can skip over the advanced options under the Archive, Validation, and Options tabs. Just check off the box under Notices to show you've accepted the terms and conditions, then click the Next button. The second page will prompt you to enter the new hostname and credentials for the database you created in the last step: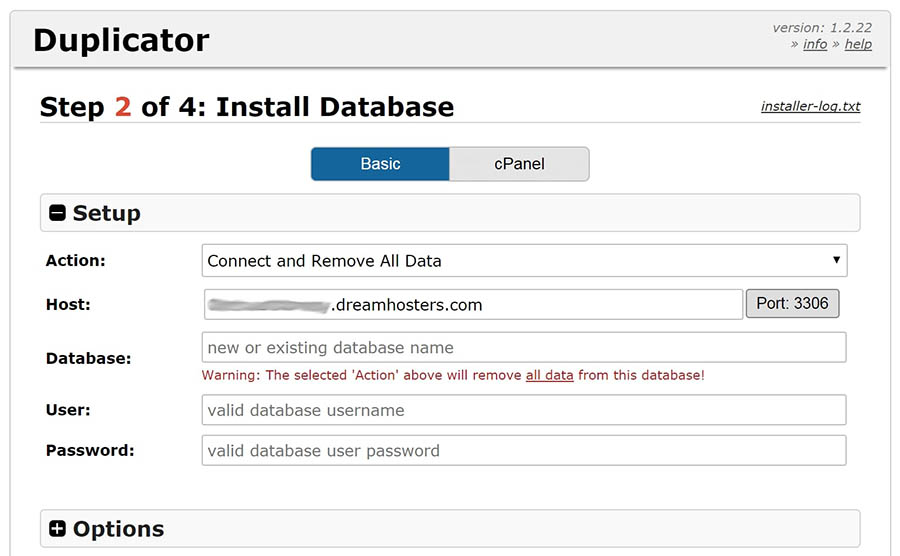 Then, you can ensure the information is correct and your database has been set up properly by selecting Test Database. If everything goes smoothly (which it should), you'll get a green Success message.
Following on, select Next, and hit Yes on the confirmation pop-up that appears. On the third page, you'll need to confirm the URL, Path, and Title for your installation: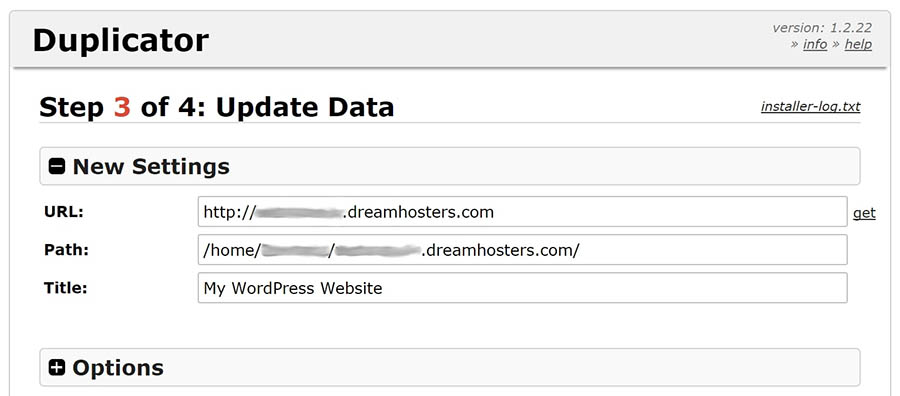 These fields should already be populated correctly, so feel free to move on to the last page. Here, click on Site Login, which will take you to the admin portal for your new site. Use your normal username and password to log in.
Once you're in the back end of your new site, you should see another success message:
This means your migrated site is set up and ready to go. Before wrapping up, click on Remove Installation Files Now!, and let the plugin work for a few moments. It will delete the installer files from your site, which are no longer needed. It's important to do this to save space, and not offer a security concern.
That's it! Your migrated site should be up and running, although you may still need to redirect your domain name to point to DreamHost. It's a smart idea to test your new site thoroughly and make sure that everything has been transferred correctly. Then you can delete your old site, and enjoy your new quality hosting with DreamHost.
Come on Over
Migrating your website to a new host might be a bit of a hassle, but it can be well worth it in the long run. If your current host isn't up to par, you'll want to switch to a new host that provides the performance, stability, and security your site needs to thrive. Plus, WordPress users will find that the process can be handled easily using a dedicated plugin, such as Duplicator.